TLS Holdings, Inc. Announces Engagement Agreement With Trend Discovery Capital Management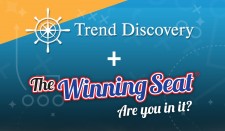 MINDEN, Nev., December 12, 2018 (Newswire.com) - TLS Holdings, Inc. (The Winning Seat®) announced today that is has retained Trend Discovery Capital Management as an advisor to the Company.
"We are excited to be working with the team at Trend Discovery. Their proven capabilities in strategy and public markets combined with our original products, blueprint for scalability and accelerated growth is a major win," said Miles Johnson, Founder/President at TLS Holdings, Inc.
Trend Discovery is absolutely clear on the vision forward. And their conviction towards our success​ has been unmatched.

Greg Johnson, Founder/CEO at TLS Holdings, Inc.
"After watching the team at TLS for quite some time, we at Trend Discovery were impressed with managements' ability to maneuver the startup landscape. Not only have they developed a truly creative and scalable business model, they have also proven it's quality and their legitimacy in the market place. My team and I are excited to advise and help TLS navigate this venture to ultimate success," said Brad Hoagland, Managing Partner/Fund Manager at Trend Discovery.
PRESS CONTACTS:
Miles Johnson
Founder/President at TLS Holdings, Inc.
mjohnson@thewinningseat.com
Brad Hoagland
Managing Partner/Fund Manager at Trend Discovery.
bhoagland@trenddiscovery.com
The Winning Seat® is the ONE AND ONLY Mobile Live-Action Sports Sweepstakes App where users PLAY 100% FREE to WIN CASH, PRIZES & MORE! Learn More at www.WinningSeat.com
Trend Discovery provides capital and expertise to help growing businesses discover their full potential. Learn More at: www.TrendDiscovery.com
* Statement under the Private Securities Litigation Reform Act:
With the exception of the historical information contained in this release, the matters described herein contain forward-looking statements that involve risk and uncertainties that may individually or mutually impact the matters herein described, including but not limited to, product acceptance, the ability to continually obtained increased orders of its products, the ability to meet installation goals, economic, competitive, governmental impacts, whether pending patents will be granted or defendable, validity of intellectual property and patents, the ability to license patents, the ability to commercialize developmental products, as well as technological and/or other factors.
Source: TLS Holdings, Inc.
Share:
---
Categories: Funding, Business Technology
Tags: Financing, Funding, Live Events, Mobile Apps, Patent, Public Offering
---
TLS Holdings, Inc.
1478 4th Street
Minden, NV 89423
United States